What plans are available for the Intraday Snapshot?
BullCharts Live and Intraday Snapshot.
Where can you use Intraday Snapshots?
Does it include hourly charts?
Only for the Live plan. The Intraday Snapshot does not display for example hourly charts. The Intraday plan provides 5 snapshots throughout the day to update your daily charts and for scanning on the latest update.
What times are the snapshots downloaded?
The BullCharts Data Downloader will run automatically by default.
Live Plan:  Every 10 minutes
Intraday Snapshot Plan: 10:40,11:00,11:20,12:20,13:20,14:20,15:20,17:05,19:50
When is the next snapshot run?
From the Tools menu, select Get Daily Data, then the Snapshot tab.  The Next Download time will be at the bottom.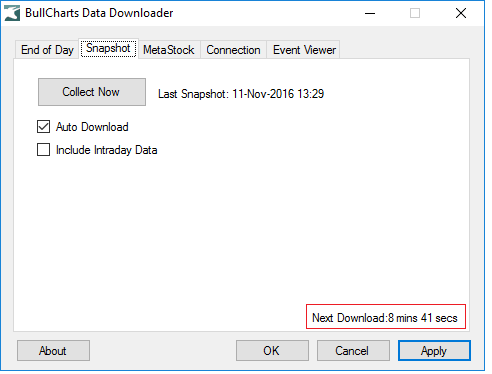 How to enable/disable the auto download
From the Snapshot tab, enable/disable the option for Auto Download.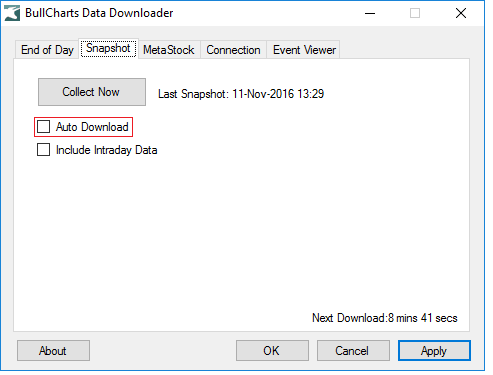 How to download a snapshot manually
From the Snapshot tab, click Collect Now.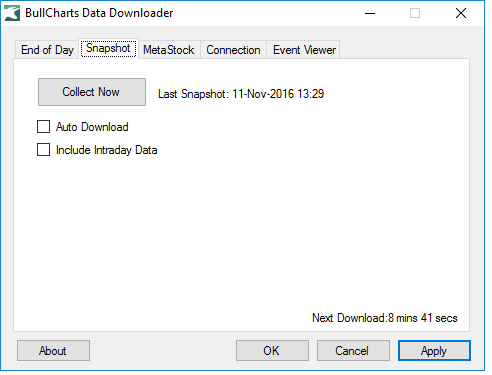 Please note that if the Auto Download option is enabled, then the download will have downloaded according to the schedule.  Collecting the data manually will only re-download the same data.  There is no option to download on demand outside of the schedule.  Re-downloading is only necessary if there are any data corrections indicated by BullCharts Support.
How to setup Alerts using Intraday snapshots
https://kb.bullcharts.com.au/knowledge-base/setting-intraday-snapshot-alerts/
How to scan on Intraday snapshot data
https://kb.bullcharts.com.au/knowledge-base/using-bullscan-with-intraday-data/
Troubleshooting
Option data is not updating when downloading a snapshot
The BullCharts Data Downloader only includes equities and indices.  Options are not included.
Checking on the history of snapshots download
There is a log file to indicate what data has been downloaded and at what time.  From the BullCharts Data Downloader, select the Event Viewer tab.  The Event Viewer log can be downloaded if required by BullCharts Support.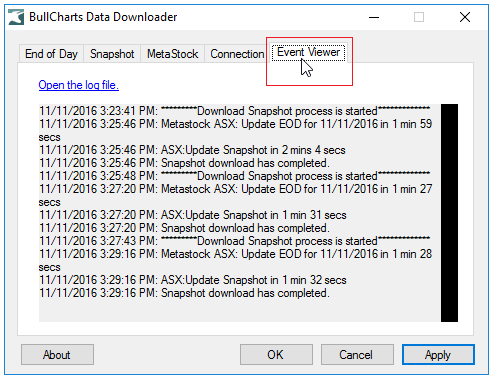 Intraday Snapshot Tab is missing in Get Daily Data Downloader
If it is missing – select Get Daily Data from Tools then click on Exit.  Restart BullCharts.