Problem
When downloading data, the BullCharts Data Downloader is not able to write to the log file to C:\Program files(x86)\BullSystems\BullCharts\BCDataDownloader.exe.log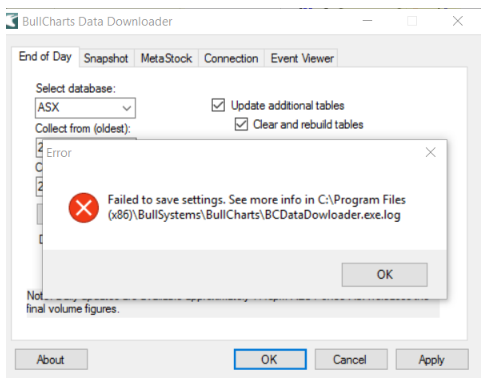 Solution
1. Check if a log does exist.  Go to C:\Program files(x86)\BullSystems\BullCharts\BCDataDownloader.exe.log
If there is no log file, it may mean that the permission of the folder does not allow writing of a file for that user. Need to check the permissions on the folder.
a. View properties of files(x86)\BullSystems\BullCharts\
b. Change the permissions to give the user full control.
2. It may be your virus checking programme that is stopping the writing of the log file.  Temporarily switch off the virus checker and test Getting Latest Data.
3. Maybe a bug in BullCharts where the Metastock path is missing in the config file.  Contact BullCharts Support.