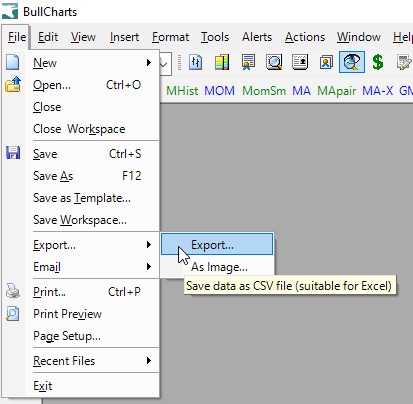 Ever wanted to export simple price data, perhaps to import into a spreadsheet? Well, it's easy.
Open a price chart for the security whose data you want to export.
From the BullCharts menu, select:  File > Export… > Export…
Then in the "Save As" dialogue, simply select the folder you wish to save it into, and accept the offered File name or type in a different one.
Click the "Save" button.
Note that the saved file is of the type CSV – Comma Separated Values. This type of file can usually be opened with any spreadsheet software (such as MS Excel, or my preference LibreOffice).
The data items that are exported include:
Symbol
Date
Open
High
Low
Close
Volume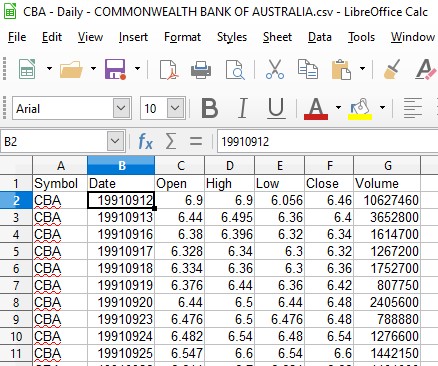 The data records that are exported include one line for each date, and saved into the CSV file in chronological order. So, if you export CBA price data today (17 September 2019), for example, you will have a CSV file that basically contains a table with more than 7,000 records (ie. lines of data) as in the second screen shot at right, with the first few lines showing price data from 12 September 1991 onwards.
If you would prefer to export weekly or monthly data, then simply view that time period for the chart, and then export. The monthly export of CBA today produces only about 330 records of data.