READ ME FIRST 
Error 401 Unauthorised  – Important note for BullCharts 4.1 Users  
The User ID maybe be corrupted in BullCharts 4.1.  Before you commence the upgrade, please check your User ID under Tools, then Login.  It may have additional characters.  If so, please remove the extra characters or reenter your correct User ID.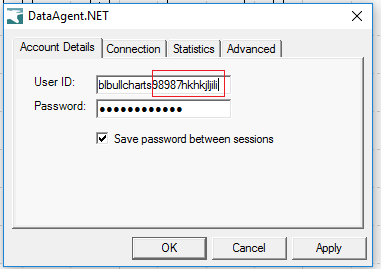 What version am I using?
To confirm what version you are running go to the Help menu and  select About. 
Upgrading BullCharts 3.6 – 4.1 BullUser Portfolio Database
To upgrade BullCharts 3.6 – 4.1, you must allow the upgrade process to convert the BullUser Database (Portfolio) as well when prompted.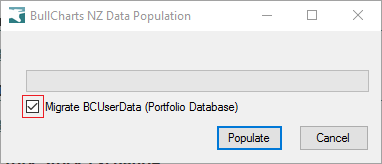 Lost Password?
If you do not have your User ID or Password to hand, please use the original email address that you originally registered with to request your User ID and current password. (It is not a reset of your password)
What's New in BullCharts 4.5
BullCharts 4.5 is a maintenance release to stabilise certain components such as the BC Data Downloader and  other bug fixes.
Improve: Lost connectivity between the BC Data Downloader and the core BullServers.
Improve:  F5 to refresh chart for users accessing Metastock data.
Add: True Strength Index Indicator added.
Fix: Line studies disappearing when change workspace.
Fix: Snapshot warning message when running scan after 5pm.
What's New in BullCharts 4.4
Able to add all symbols in watchlist to a chart.
Drag and drop multiple symbols from a watchlist onto a chart.
Ease of toggling chart overlays  to hide or display on a chart.
Shortcut add Symbol overlay on chart.
Redesign the title header of a chart for clarity.
RSC Sector Scans
More detailed notes: What's new in BullCharts 4.4
What's New in BullCharts 4.3
Special support for interfacing MetaStock data with other applications, including additional exchanges.  This allows you to have one data subscription to support multiple applications.
 Enhancing the recent changes to enable price data from more exchanges.
The ability to have unlink selected charts when using the Sync all charts option.  This allows you to group a number of charts for syncing for one stock symbol, but create 'orphan' windows  to display other data in the same workspace.
Updates to the BullCharts Help, with a new online KnowledgeBase.
Many other smaller feature changes
More detailed notes: What's new in BullCharts 4.3
What's New in BullCharts 4.2
We have moved to a new database manager that gives us:
more flexibility with different stock exchanges,
automate the download of daily data
easier backup
easier installation
More detailed notes: What's new in Bullcharts 4.2
Who is this for?
Supported Operating Systems: Windows 10, Windows 8.1, Windows 8.1 and Windows 7.
Installation
Steps
Check if have enough disk space – 2Gb or more for the ASX.
Close BullCharts
Download the appropriate file
Run the install file.
Disk Space Requirements
Due to the change with the database manager, the ASX database now requires approximately 2,000Mb free space.  It is possible to change the drive to install as outlined in the BullCharts Installation notes.
Download Area
BullCharts Download Area. You will need your User ID and Password to log in.  Lost your password?
Two steps to install BullCharts,1. Download and then 2. Install.
1. Download – select appropriate file to download
After you login to the download site, please select the Upgrade option.

2. Run to install
Double click on the  file name or click on V to Open to install.
Chrome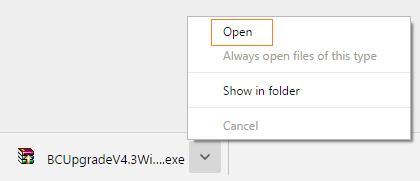 3. Click to Open installer (Chrome).  There may be a security message Windows protected your PC  (Windows10).  Select More info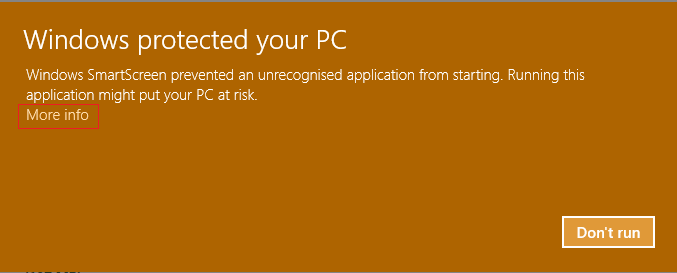 Then Run Anyway

4. Select Install in the default location or Browse to change the Destination location.  This is just a temporary folder to extract the file.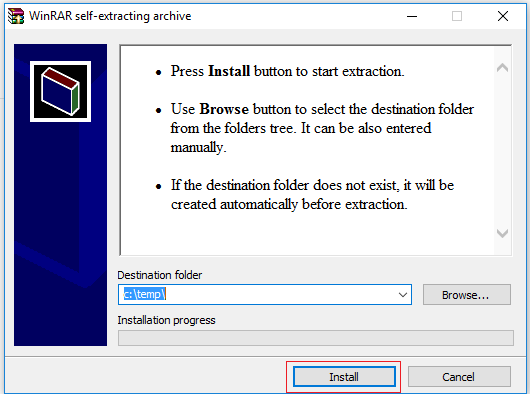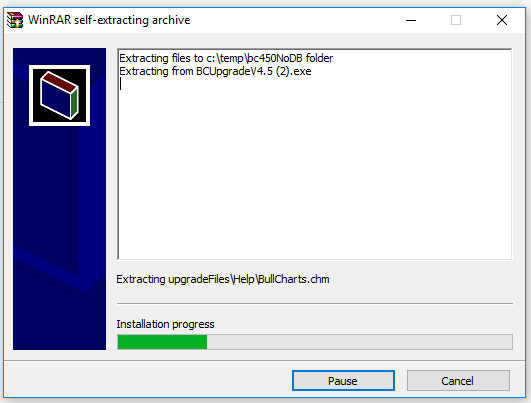 5. Confirm file replace if displayed,  select Yes to All to continue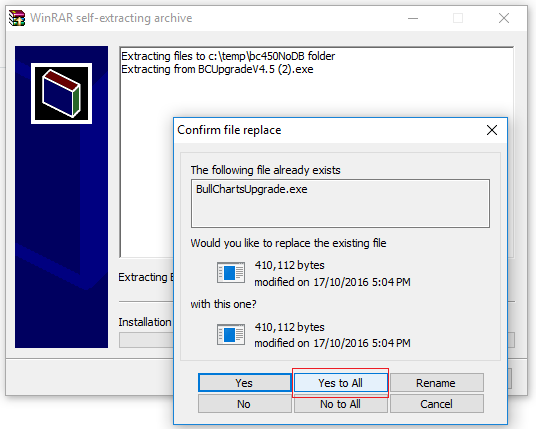 There maybe a message regarding an Unknown publisher. Select Yes.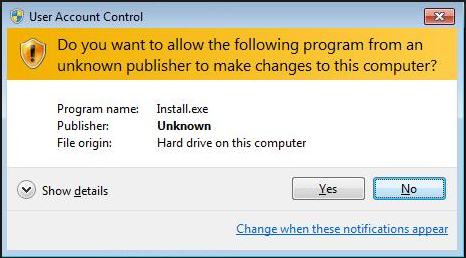 6. The dialogue box BullCharts Upgrade may be hidden in the background.  The tab to bring it to the foreground will be on your toolbar.

7. Select Upgrade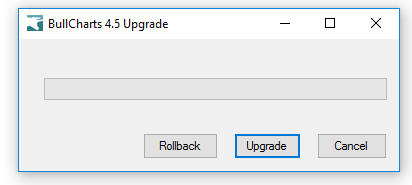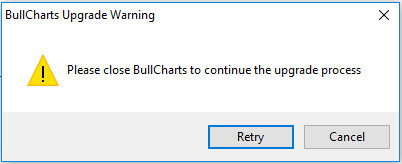 Warning if you have not closed BullCharts yet. 
Close BullCharts then select Retry.
7.  Click Finish.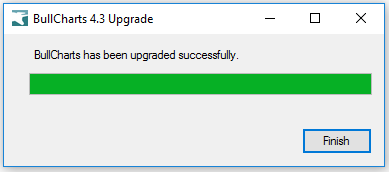 8. Restart BullCharts.
Troubleshooting
Cannot create BullChartsUpgrade.exe
a. Another BCDataTool is open.  Complete the previous install first before continuing with a new database installation.
b. If the error continues to occur, reboot you machine to clear all instances.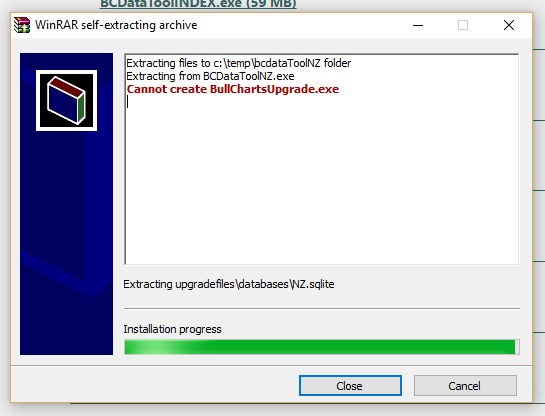 Could not load file.
BullCharts is not installed.  BullCharts must be installed first.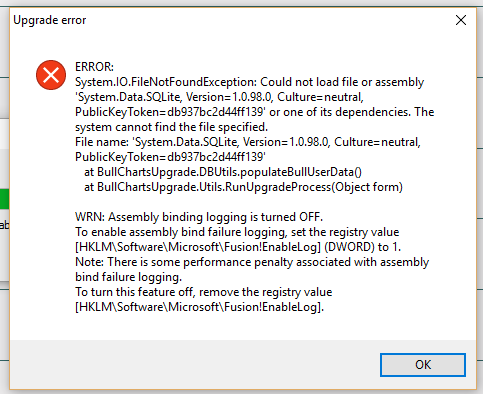 SQL logic error or missing database no such table: P_Portfolios
How to correct a missing or corrupted Portfolio.
Lost Connection
Lost Connection: DataAgent.Net connection to server has been lost
The remote server returned an error: (401) Unauthorized
Error 1310.Error writing to file: C\Program Files\(x86)\BullSystems\Bullcharts 64\SQlite.Interop.dll
Error 1310.Error writing to file
Uninstalling BullCharts