Overview
BullCharts is supplied on CD-ROM suitable for Microsoft Windows XP, Windows 2000, Windows 2003, Windows Vista, Windows 7, Windows 8. It is a professional charting platform, and is best run on a high performance system with a broadband connection to the Internet.
A User ID and Password is required to connect to the BullCharts servers, so if you do not have these details, please contact BullCharts you run the installation program.
Recommended Requirements
CPU 1.6 GHz or greater
Microsoft Windows: Windows 8.1, Windows 8, Windows 7, Windows XP SP2 and Vista
4GB RAM or greater
More than 5GB free hard disk space
Accelerator video card
Cable or broadband connection to the Internet
Compatibility Upgrade Required
Microsoft Internet Explorer 10 or greater
Adobe Reader 10 or greater
Firewalls
BullCharts needs to be able to communicate with the servers in order to access stock market information. If you are working behind a firewall BullCharts may have difficulty reaching the servers.
If you are unable to connect to the server, please advise your network administrator or Internet Service Provider that the firewall must allow communication to the 203.24.211.* network over port 1000 and 20000.
BullCharts also needs to communicate over port 80 to display web-based content.
If you require further information about the connection requirements, please contact BullCharts Support.
Proxies
If you are using a firewall or proxy system, such as Socks, that prompts the user for a password whenever they attempt to access the BullCharts server, you are able to use the Advance option in Login from the Tools menu
The typical settings for Socks Version 5 are below.  The settings may be different to your proxy server.  Important: Please do not modify these settings unless you are familiar with your proxy.  Each proxy is different.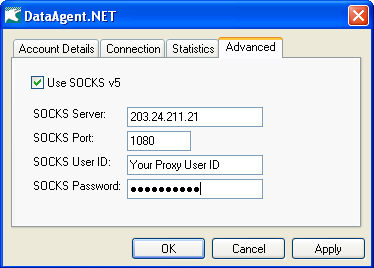 Uninstalling BullCharts
Close all open instances of BullCharts.
Open Control Panel by clicking on Start, and then Control Panel.

Double-click Add or Remove Programs

 Click on BullCharts and then click on Remove.


Follow the on-screen instructions to uninstall BullCharts.