Problem
BullCharts Upgrade did not change version number.  This may be because the Upgrade dialogue box is hidden and hence waiting for input.
Solution
a. The dialogue box BullCharts Upgrade may be hidden in the background.  The tab to bring it to the foreground will be on your toolbar.

Select Upgrade.  The upgrade will now complete.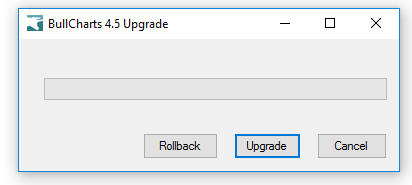 b. There may be a security alert also hidden in the background that requires input to accept the upgrade.  Please check for for any messages by selecting each open window tab.