What's New
QuoteCenter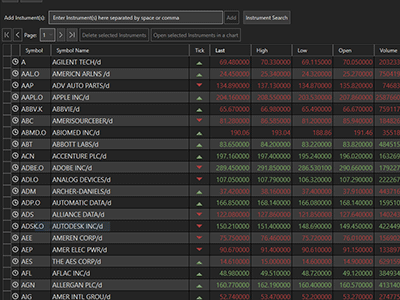 QuoteCenter is your one-stop spot to see the current status of the securities that you are interested in. You can view your pick list, your positions, your indices… any list you choose. More than that, you can easily build and set up lists using QuoteCenter.
Sort on a variety of criteria to view the data important to you, then just double click on a security if you want to see a chart. It's a fast and easy way to make your workflow more efficient than ever. You can even change the color theme.
MetaStock R/T customers also have the option to view data in real-time.* MetaStock D/C customers can work with online data or use your offline data.
View Symbol, Name, Tick, Last, High, Low, Open, Open Interest, Volume, Net Change, Percent Change, Date (or Time in MetaStock R/T, as well as Bid and Ask)
View Online and Local Data
Open Charts directly from QuoteCenter with just a click
Open any list from Power Console (up to 600)
Select any group of stocks to open in QuoteCenter
Create and Manage lists
Sort and rank on columns
3 available color themes for viewing quotes
*Data is delayed by 20 minutes if the customer has not subscribed to the associated exchange.
OptionScope
OptionScope puts all critical info at your fingertips. The OptionScope option chain display gives you sortable, customizable, color-coded options data – including the greeks.
The OptionScope filter window makes honing in on the data you want to see a breeze. Of course, MetaStock's legendary charts are just a click away, saving you time and effort.
MetaStock D/C customers can view Option Chains for any US Optionable Stock (requires additional options data)
MetaStock R/T customer can view Real-time Option Chains for any global optionable equity*
View Puts/Calls with Net Change, % Change, Bid, Ask, Implied Volatility, Close, Open Interest, and Volume
View Greeks:Delta, Gamma, Theta, Vega, and Rho
Sort by Expiration Date, Strike Price, Filters, Expiration Type, In/Out of the Money and Greek Parameters
Filter on Expiration Date, Strike Price, Expiration Type, In/Out of the Money, At the Money, and Greeks.
*Data is delayed by 20 minutes if the customer has not subscribed to the associated exchange.
Elliott Wave System
Based on the legendary work of R.N. Elliott, the MetaStock Elliott Waves System gives you the ability to chart High, Medium and Low volatility Elliott Waves. Formally a best-selling $300 MetaStock Add-on, this system comes standard in MetaStock 17. Out of the box, you get 3 expert advisors, 6 explorations, and 5 templates. You also have the free option as a 17 user to download the complete Suite of Elliott Tools.
Martin Pring's Special K Systems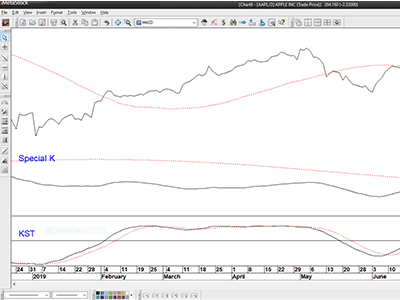 Take advantage of Martin Pring's time-tested method for identifying emerging sectors in the market cycle. Formally a $299 add-on for MetaStock, Martin Pring's Special K combines short, intermediate and long-term time frames into one series. This "Special K" series often peaks and troughs with actual bull and bear market turning points. It can be used in many ways. The two most important are:
Identify primary trend reversals at a relatively early stage
Using short-term changes in direction of this unique indicator to spot 1 to 6-week buying and shorting opportunities
This add-on includes all the following:
7 indicators
4 Explorations
2 Expert Advisors
2 Templates
RMO Commentary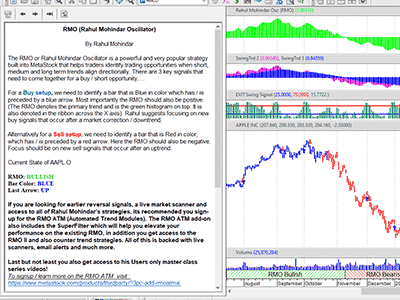 The Rahul Moihndar Oscillator has become a MetaStock favorite for both seasoned and beginning traders. It's a very powerful strategy that helps traders identify opportunities when short, medium, and long trends align. Now you can take advantage of the legendary Expert Advisor commentary to describe in detail why and when bullish or bearish setup has occurred, giving you the knowledge and confidence you need to take the trade.
Support for Legacy File Format in the Downloader
You can now download MetaStock legacy file formatted data. The newest version of the Downloader will allow you to work with any of MetaStock's file formats. You can work with MS Local our newest file format, or if you need access to our legacy format you can use that as well! You can also cross convert between MSLocal, Legacy, and CSV.
Automatic update of Symbol Database
It is no longer necessary to manually update your Symbol Database. Automatic download and update now take place every month for online data. You will be notified when your Symbol Database has been updated. This keeps your data lists fresh and updated without you having to do anything.
Pre-market and Post-Market Data
Some of the most important market moves take place outside regular trading sessions. Now, with MetaStock R/T you won't miss a beat because Pre-Market and Post-Market data are built right in. With this new feature, you can turn on or off Pre/Post Market data allowing you to view the data the way you want to.
Enhanced Usability
Details are important in order to make a software package easy and intuitive to use, while still packing a punch. MetaStock listened to our client's feedback and have added a host of new usability features to MetaStock 17.
Renamed Files and Formulas in MetaStock to be more user-friendly
Ability to quickly and easily back-up your user files.
Clear Smart Charts in one click
Faster Load time
User Memory – Each time you open MetaStock, it remembers where you left off
More responsive symbol search
Easier access to past exploration results
Quickly manage multiple explorations in the Power Console
Easier-to-read Power Console interface
Easier access to creating custom lists
When closing multiple charts at the same time you can choose to "Save all" or "No to all"
Ability to adjust data in Downloader
Tab to next cell/field in Downloader
Consistent name of items copied in PowerTools