Overuse of computer resources
If a large number of chart windows are open at the same time, BullCharts will become very sluggish or a message that the framework has stopped working.  The number of chart windows possible depends on your computer's performance affected by memory, CPU, video card or hard disk.
A large number of windows may be opened accidentally by using the Chart icon every time to view a chart.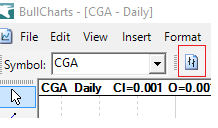 Each new window will be a tab at the bottom of BullCharts.  Over time this could build up to a 100 charts being opened at one time.

Normal use is to open 4-5 charts and simply change the stock code in the Symbol Box to view a different chart.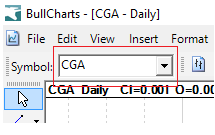 Microsoft .NET Framework corrupt
This message maybe due to the Microsoft .NET Framework being corrupt or is the wrong version installed.
Microsoft .NET Framework will need to be re-installed.  Please contact BullCharts Support for assistance.
Viewing PDF Announcements causes a framework error
See Not able to view ASX Announcement PDFs